41 ft 7 in / 52 ft 1 in / 14 ft 10 in
Standard ISR / Strike Empty Weight*
2,224 lbs (1,009 kg/332 gal/1,257 l)
Extra fuel capacity w/ internal auxilary tank
670 lbs (304 kg/100 gal/379 l)
Cabin Height / Cabin Width
1 × Pratt & Whitney Canada PT6A-140 turboprop, 867 shp
4 – Bladed McCauley Constant speed, full feathering, reversible pitch
4 wing hard points rated at 525 lbs (227 kg) each
186 kn (214 mph, 344 km/h) true air speed
61 kn (70 mph, 113 km/h) calibrated air speed
1,070 nmi (1,232 mi, 1,982 km)
28.674 lb/sq ft (139.792 kg/m2)
Garmin G1000 Glass Cockpit
* 2 LAU 113A/A with 14 Rockets. |  ** ~170 in ISR / Strike configuration
Avionics and Controls
Wired with internal capacity for at least six radios, including GFE situational awareness data link (SADL).
Able to transmit EO/IR sensor data using Beyond Line of Sight (BLOS) full-motion video (FMV) Ku/Ka and Link-16 via Viasat Ku antenna system.
Can accommodate customer's SIGINT package of choice through open architecture capability.
The pilot and co-pilot can control all phases of flight, including instrument flight rules (IFR), weapon systems, and sensors.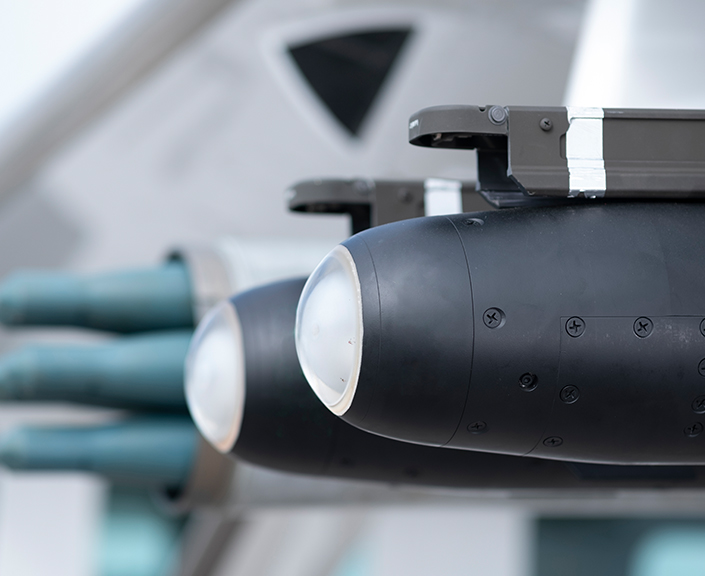 Weapons Capabilities
Wired for 1760 databus communications for employment of guided rockets, missiles, and stand-off precision-guided rockets (SOPGM).
SEEK Eagle certified and approved for use of advanced precision kill weapon system (APKWS), Hyda-70, and AGM 114 munitions.
Four hardpoints on wings can hold up to 525 lbs. each, including suspension equipment.
Cargo Capacity
Capacity for 7 pax in addition to cockpit crew.
Well suited for casualty evacuation without the need to be reconfigured.
Provide forces on the ground air-dropped resupply of ammo, batteries, medical supplies, etc.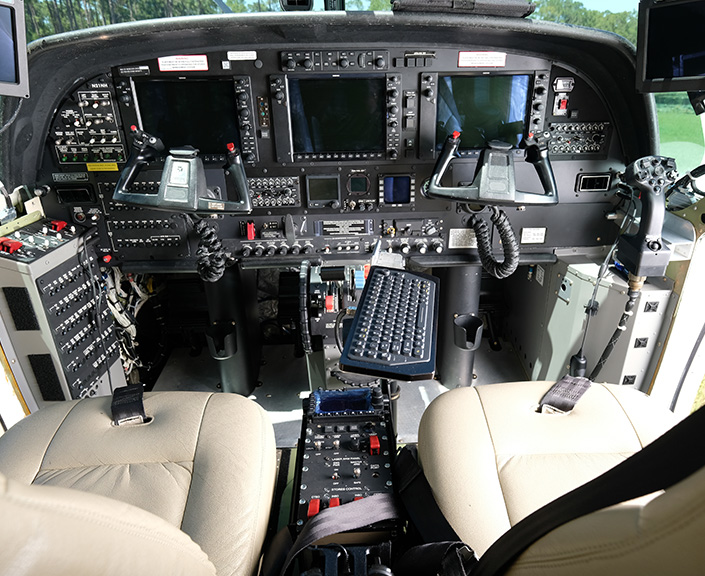 Safety and Ergonomics
Garmin G-1000 glass cockpit with intuitive displays and controls.
Ergonomic design and layout with emphasis on ISR mission and weapons and sensor control.
Autopilot can control ISR-type flight profiles and connect to civilian airfield databases for global navigation.
On-board oxygen generation system (OBOGS) provides oxygen capacity for two aircrews for eight hours.
Pilot Training
Designed for ease of training – from the widely used base Cessna platform, to integration of intuitive systems from L3Harris, Moog, Viasat and Raytheon.
Mature and robust training program, including Cessna Caravan full-motion Level D simulators and curriculum and online coursework and IPAD apps for deployed ops via Textron Aviation.